I bet many of you are anxiously awaiting the announcement of the finalists for the Party Party Contest!  
We are carefully going through each party and there are so many wonderful ones that it is proving to be a difficult decision! The rest of this week is going to be dedicated to Valentine's Ideas to help you get ready for the big day! So NEXT Monday, the 13th will be the announcement of the finalists and voting will begin! Thank you for your patience!
In the meantime, I had the opportunity of decorating for a wonderfully sweet and fun party last weekend that helped me remember why I love party planning! I'm excited to share it with you now: 
We have some good friends who are so great to us and our children. Remember the yard where we had the Rapunzel party with the train? That's Bruce and Rosie! They are always so generous and loving to everyone! A mutual friend contacted several of us to let us know that they would be celebrating their 30th wedding anniversary this month. They had hoped to take a trip somewhere, but the need for a new air conditioner trumped that plan. Kelly, suggested that we pool our resources to throw them an anniversary party to help them get a chance to celebrate and know how much they are loved.
Lots of people were excited to jump in and make this happen! It was a bit of a challenge to plan and involve so many people without giving away the surprise, but I couldn't be more thrilled about how things turned out!
It was a great team effort! One friend (Diane) offered her fun property for the party. Another friend (Heidi) is a caterer and coordinated the delicious Cafe-Rio style Sweet Pork Salads that were served buffet-style. Heidi and I decided that while this couldn't be too formal of an occasion, we wanted it to feel special, so we chose food and decor that might feel a little like a tropical get away.
I surprised myself by busting out the chevron stripes to print tent cards and card stock for the banners. (You can find free downloadable Chevron paper here)
I cut out letters with my Silhouette, and hot glued them on to orange bakers twine to make the Banner.
I used a few of my paper lanterns (from my 1999 wedding), along with some fun green crepe-paper poms and colorful paper fans through out.
But the star of the decorations for the event was the ruffled crepe paper BSB and I sewed up for the occasion (yes, I need my husband to hold my hand while using my sewing machine–since it frequently decides it doesn't like me and he is so much more competent at trouble-shooting mechanical things) in lots of different color combinations.
We put rectangular tables together in sets of two or three to make sure lots of people could eat together (and we wouldn't just be eating with our own families)
We draped a couple of lengths of contrasting colored ruffled crepe paper around each of the long tables that had been covered in long white linens.
Centerpieces were my vases set on chargers and filled with citrus from the trees on the property. We used some fresh flowers mixed with lavender and greens that Diane (the homeowner) was growing and clipped for us. Which meant we almost spent no money on the centerpieces.
The sign-in table was full of fun ways to share memories, created by some more friends (I tell you, I like this group effort thing! I wonder if I could get everyone to come and help at my next birthday party).
Jennifer created this adorable alternative to a sign-in book. 
We each wrote our names on hearts that were attached to this artful tree. It will now be framed and hung up in their home so they can always remember how much they are loved.
Becky managed to acquire a copy of their wedding photo to display alongside this memory jar. Everyone wrote favorite memories of Bruce and Rosie on colorful paper and put them in the jar for safe keeping.
Another friend, Kristin, made and decorated these delicious and beautiful sparkling cupcakes. Don't you love food that sparkles?!
The kids did, too! (Note to self: Next time put desserts on a table that the under-two set can't reach. :-))
Since Bruce and Rosie love children so much, it was a family party. And it was the children who took care of the surprising part. My son is the one manning the gate as they came in.
They were so surprised and were immediately engulfed in a sea of adoring children.
My daughter made crepe paper flower corsages and pinned them on the guests of honor. (All her own idea and work!)
We made them cry, so I would say for sure it was mission accomplished! They had actually had a really awful week with family in the hospital. You could tell this really meant so much to them.
We made them do other things, too, like feed each other cake (Rosie won) and dance under the lights!
Everyone had a great time eating, talking, and dancing! We had used these lights for my SIL's wedding, and I was happy we got to borrow them to make this party feel more like an event!
We love you, Bruce and Rosie! Thanks for giving us something to celebrate!
Stay tuned to feel the love this week as I'm teaming up with a bunch of amazing bloggers to bring you all of the creative Valentine's ideas you could need! And meet me back here on Monday to see who are the finalists in the Party Party Contest!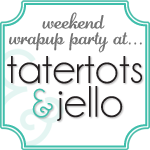 (Visited 58 times, 1 visits today)