I nearly titled this post, "Something Fishy is Going On", but I didn't want to give the wrong impression.
When we decided to spend Christmas in Utah, the one thing my husband was really excited about was fishing. Yes, in the cold. Yes, in the snow! Yes, he clearly has less sanity than I have, but in totally different ways!
Anyhoo! We threw him a little fishing-themed birthday dinner at my parents house. I made a yummy tilapia (with fish sticks for the kids). Dessert was fishing bait (I mean chocolate cream pie with crushed oreos and gummy worms). I had planned to have more fishing games for the kids, but since my husband had to be born right before Christmas, some plans had to go unexecuted.
But probably the most interesting and time-consuming part about the birthday celebration, was his birthday sign that the kids and I made. I found clip-art of a trout on-line and printed it out in a variety of sizes on cardstock. I let the kids color the fish, and cut out the letters to spell, "Happy B-Day Barry," My daughter was the one applying the letters, and didn't quite understand my vision, or they would be vertical instead of horizontal, but we strung those fishes up, just like my husband strings up the trout he catches (he told me that this would be way past the legal limit for a day of fishing). I also had a smaller sign that read "Happy Birthday Barry! You're quite a catch!"

And he did go fishing in the cold and catch a few fish! Not my idea of birthday fun, but I think he had a great time!
Just a little bit of partying to whet your appetite for our big Party Party on Thursday! I hope you all will participate. Remember there will be at least one prize! I'm still a little fuzzy on the details, but right now I'm calling it a party in a package! (Not to mention being totally raved about on my blog!) I hope you all will participate!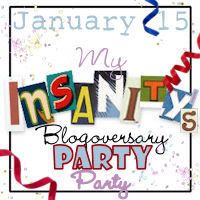 (Visited 39 times, 1 visits today)