A little of what is going on in my world:
1. Upcoming Reviews
I'm so excited! I have two big product reviews coming up which are going to enable me to work on and blog about a few big projects around my house. One review is about paint and the other is from the CSN stores. Together these reviews should enable me to make some serious headway on my dining room, and a couple of my bathrooms. I have a general idea of where I'm headed, but now need to decide where my priorities are. Gorgeous bathroom vanities, or light fixtures? New mirror, or spice up the one I have? If you have any favorite inspiration photos of bathrooms, do share! I'm thinking kind of European Costal for my powder room, and rustic boardwalk/bay for my kids' bathroom. Those descriptive titles may not mean anything to you, since I made them up. But if you can think of anything that may be along those lines, send it my way. I need to select paint colors asap!
Kind of on a whim, I decided to sign-up for the "Tour de Thrift." You might think I'm crazy thrifting with a new baby (haven't quite figured out the logistics), but I couldn't resist the chance to meet some
fellow Arizona bloggers
, hopefully find some killer deals, and my decision may have had something to do with
the swag-bags and door prizes being offered
. I will be sure and report next week!
3. Vote for me (please):
I entered my Golf cupcakes in this contest! I would love your vote! (VOTE HERE!)
4. Holiday Home Contest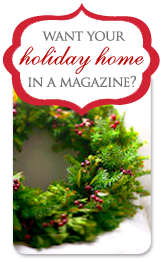 Haven't decided if I can or will enter this contest from Matthew Mead's Holiday Home magazine. But I would love to have my home featured in a magazine someday…when I get it right (and my children are on an extended vacation at Grandma's so they don't mess it up!)
5. Patriotic Project
Got together with some fun friends tonight to work on a project for the 4th. It's about half done. Hope to show you next week! It involves sewing! I know! Right?
(Visited 4 times, 1 visits today)