I was getting ready to post about how organized and on the ball I am going to be this year when I got distracted by sparkly things!
I love Valentine's Day–I do. I blog about it all of the time. But when the stores fill with Valentine's merchandise before Christmas is even over, it makes me a little sick to my stomach–like when I've been eating too much candy sick. My eyes and my stomach need a little breather.
So because of that, and the fact that I'm a bit in love with my cupcake liner winter trees, I've put together a little winter decor to live on my mantle for a few weeks, until I'm feeling the hearts and lace again.
Here are my trees in my home hanging out on either side of the mantle.
I kept the design pretty minimal, symmetrical, and clean on purpose. Hopefully it will inspire clean minimalism in the rest of the house, as I try and reclaim it from the holidays.
I found the candlesticks on clearance at Michaels last month and had used them on the table for Christmas dinner. On either side I used mercury glass candlestick (clearance from Target a few years ago) as pedestals for clear vases filled with Espson salt.
The mirror needed a little bling, so I cut the numbers out of thick white card stock with my Silhouette machine, and glittered them with Mod Podge and course white glitter (Martha Stewart brand). I punched holes and strung the numbers through some white tulle ribbon.
Someone decided to play Secret Santa to our family this Christmas. Among other things, they left us this beautiful clock. I thought it was the perfect nod to the New Year and I placed it right in the center of the mantle.
The light and frosty mantle feels refreshing after all of the holiday fussiness.
And so what if it is 80 degrees outside? In light of the the triple digits we will be enjoyig in a couple of months, I'm going to milk this "winter" for all it's worth!
So what about you? Are you reveling in winter, or have you moved on to Valentine's Day?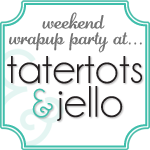 (Visited 15 times, 1 visits today)