I baked the cake in a mixing bowl that was about the right shape. I actually used a clean stainless steel pipe in the center of the bowl in an attempt to help it bake evenly. It seemed to help.
The top (or nail polish lid) is actually made of Rice Krispie Treats. I wasn't sure this would work, but it ended up working quite well. I took a long cylindrical-shaped vase, and sprayed the inside with cooking spray. I smooshed the Rice Krispie mixture all the way in there, and stuck a small skewer in the middle. When it had had enough time to set up, I pulled it out in one piece by the skewer. After wrapping it in white fondant, I attached it through the cake and to the base with a dowel. The base of the cake was covered in white fondant and then painted with purple (more so than it looks in the pictures) luster dust mixed with clear vanilla.
I used edible ink pens to write on top of the fondant and mimic the design from the invitations. (I don't think my pens are the best. I think other brands might work better. That, and I didn't have time to let the "paint" dry completely before attempting to write. One day I'll get the cake done far in advance!)
The girls were pretty excited about it, though! And I was so happy that it didn't fall apart! More about the spa part of the party still to come!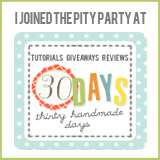 (Visited 762 times, 1 visits today)