Thank you to Cottonelle for encouraging me to Respect The Roll by sending me these awesome roll covers and Cottonelle Clean Care product and sponsoring my creativity. You can enter to win roll covers yourself by visiting Cottonelle's Facebook page!
********
One topic I never expected to write about on this blog: Toilet Paper. But when someone issues me a challenge, I am hard-pressed to say "no". The folks at Cottonelle have designed these stylish toilet paper roll covers and have issued the challenge to several creative bloggers around blog land to "Respect the Roll" by bring it out of hiding and incorporating it into our decor.
I love the fun mid-century modern inspired designs! So fresh and fun! When these showed up at my door, I knew I had the perfect spot for them in my house…and it wasn't in my bathroom.
Has anyone been reading my blog long enough to remember ages ago when I posted my
design inspiration for my loft
? I have held true to that vision, but haven't blogged much of the finished room, because sadly, parts of the room have never been completed enough (or clean enough) to blog about. This toilet paper challenge may have been just the thing to get me inspired to complete this room design (one corner at a time).
This corner of the room is usually referred to as "The reading corner." My mom made this great chair out of Dick and Jane fabric for my kiddos a few year back. The tent is from IKEA. The shutters were from Habitat for Humanity and painted red.
The art portion of the space needed more organization and attention. My new Cottonelle covers make the perfect place to store supplies! I had BSB install them directly on the wall, by drilling a small hole in the bottom of each canister and using a screw and washer to screw them securely into the wall.
I cut some letters with my Silhouette machine out off fuzzy black vinyl to label the contents of each canister.
One is for finger paint (where is the rest of that? I think BSB threw it away because he was sick of messes). Next is the chalk canister. And what do you think is in the clean-up canister? Toilet paper, of course! I actually wouldn't have thought this would be a good idea with most brands of toilet paper, but the Cottonelle Clean Care paper is so thick and strong! It will work nicely to clean up little paint messes. My kids tried it out to erase the chalk and it worked nicely for that, too.
An advantage of attaching the canisters to the wall is that they can double as hangers for the little art aprons I made for the kids at a church craft day last Christmas. They add color and fun and are at the kids' fingertips if they want to do messy projects.
I added some paintbrushes and other fun supplies and cute on the newly yellow shelves above.
The kids were so excited to come and test out their spiffed-up corner.

I'm hoping this will be the catalyst to get the rest of the loft organized and cute! I just have to decide if painting some things are worth is and figure out when my daughter's artistic nature will be more appropriately channeled (Don't ask about the red Sharpie Blue's Clues clues all over my upstairs).
So, what do you think about toilet paper in the loft? Do you "Respect the Roll?"
*******
Thank you again to Cottonelle for sponsoring this blog post. Please click here to learn more about Respecting The Roll. I was selected for this sponsorship by the Clever Girls Collective. All opinions expressed here are my own.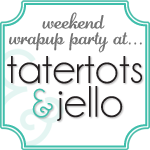 (Visited 336 times, 1 visits today)