Thanksgiving is frighteningly near. Have you thought about what you will do with and for the children on the big day? Here's a collection of my best kid-friendly ideas from all of my Thanksgivings past. I hope it inspires you on how to get your kids involved this holiday:
1)

Kids LOVED making individual turkeys out of mini-pumpkins and fruit one year! We used toothpicks to hold melon balls and grapes in place as tail feathers. Clementine oranges made great heads and cloves are easy eyes. We used slices of red pepper (and a partial toothpick) for the snood (and yes, I totally had to look that name up just now), and cut baby carrots to form the beak and feet.
2)
If you don't want the hassle of helping the children each make a turkey, you can make a large and tasty one for the kids' table. This one was a combo of squash, gourd, (carrots and cloves again), and candy tail-feathers.
3)
Even children who can't read yet, can often recognize their own names. Make them special placecards with their names on them for the Thanksgiving table. This 3D pumpkin name-card is pretty simple to make and looks great at a kid-friendly place setting like this one.
4)
Turn their plate into a pumpkin by purchasing basic orange plates and using green scrapbook paper to create a stem. Another sheet of scrapbook paper serves as a placemat.
5)
Teach your kids a little Thanksgiving history by having them help make these cute pilgrim hat place-cards.
6)
Or you can be inclusive and seat both pilgrims and American Indians around your Thanksgiving table.
7)
Or while we are on place-cards, how about one they can really sink their teeth into? This bale of hay is similar to a rice krispie treat. And Bugle crackers and Runts candies comprise the tiny cornucopias.
8 )
Instead of trying to keep them out of your hair, let them help with the preparations. My daughter stamped the leaf pattern all over the roll of butcher paper, serving as the tablecloth on the kids table. We also stamped designs onto the napkins.
(Those turkey placemats? My mom and I totally knocked them off of Pottery Barn Kids, before Knocking off was cool. :-))
9)
Picky eaters? Squirrel away some treats for them to eat once they've tried everything on their plates. (It doesn't hurt if their basic paper plates and cups have been hand-stamped for a festive feel).
10)
Remember to help them be grateful, by adding leaves to a gratitude tree on Thanksgiving, or all November long.
What are your favorite kid-friendly Thanksgiving ideas?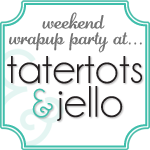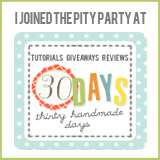 (Visited 1,114 times, 1 visits today)