I cant tell you what an improvement this is over the norm (no before picture, but it is at least as bad as you are imagining). Those sunflowers were around for my daughter's science fair project. I took this picture and lamented to my mother that I didn't have any fresh cinnamon rolls for the cake stand. And…
Voila! I love how things magically happen when my mom is in town. Cinnamon rolls. A consistently clean kitchen. Fresh bread. Too bad the magic leaves when she goes.
(And they tasted even better than they look–not to make you jealous or anything).
My kids love the cereal station, because it reminds them of the rare times we have stayed in a hotel and been greeted by a similar set-up for breakfast. I have scoops in each jar that I believe were also purchased at Walmart. It works quite nicely, and frees up pantry space! Now if only I could always keep the station stocked with fresh cinnamon rolls and clutter-free! Working on it (well, the clutter anyway)!
Hope you had a great Memorial Day weekend! We did!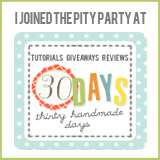 (Visited 775 times, 1 visits today)