I've had these photos uploaded all day, but haven't been able to have two hands to type, until now. My little guy is going to sleep for the night (at least and hour or two), I hope! But just in case I'm going to make this kind of quick.
Back when we made our
St. Patrick's Day shirts
, I bought shirts and cut letters so we could make these shirt for when the new baby came. This was a chance to try and perfect the
bleach method
we tried before, but the idea of the shirts is kind of a tradition in our family, now. It is a way to get the kids involved, and help them feel excited about the new baby.
When my two year old was born, my sister, Shanda, helped my kids make these shirts:
They were just made using iron-on letters and sparkly designs. (I still love that the "e" is backwards. We'll try and blame it on Trenton, but I'm pretty sure it was Shanda's goof. "E's" are tricky! I got a bunch of them backwards on shirts I was painting at Girls' Camp, last year.)
For links about how to do the bleach art, go to the
St. Patrick's Day shirt post
. This time, we tried diluting the bleach with water for a more subtle look. Interestingly, I think the results might have more to do with the fabric you are spraying on and how it takes the bleach.
The dark colors on the boys' shirts, came out very subtle–which is what I was going for, kind of a vintage, tone-on-tone feel. I certainly didn't want the red shirt to turn pink.
But on my daughter's shirt. My husband didn't think it was working and kept spraying. It is much more dramatic, but with her fun turquoise shirt, I kind of prefer the higher-contrast design.
The thing we (I should say he, as in BSB, my dh…since I was mainly siting on the couch nursing the baby the whole time) did differently this time, was to cut out forms out of cardboard to put inside each shirt while spraying. Truthfully, my husband is crazier than I am. He cut each piece of cardboard to size. Look what he did for Baby Alec's onesie:
It has legs! (Sorry, no picture of the baby in the onesie. I think he peed on it moments after putting it on. I guess I know how he feels about it!) If you can't tell, the design in the middle is a cute baby elephant. It shows up much better in person.
And just because she's cute, here are a couple of pictures of Tessa in her new shirt!
This is what happens when you ask a 2-year-old to show you their shirt. This–or a belly button flashing!
And here is a better view of the shirt! What have you done to involve older children when a new baby comes?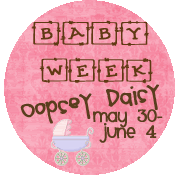 (Visited 362 times, 2 visits today)