UPDATE: Are you here for the party? It's going on HERE!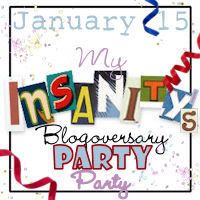 It was January 15th one year ago, when I clicked the "publish post" button on this post about my husband paintball birthday, and thus began sharing my insanity with the world. My blogoversary is just a few days a way, and since I'm not sure what the proper protocol is for a blogoversary celebration, I am throwing myself a HUGE party! At least, I hope it will be huge. I'm inviting you all to come. And since parties are some of my favorite things, I'm having a PARTY party. How fun is that?
Here is the way it works. Come back on January 15th, the date of my blogoversary, (but you can come back lots before then, too.), and link-up with your favorite party post. That's right. I am in the process of figuring out Mr.Linky, and will have him at my party so we can all go and check out your parties! (Are you confused?)
Let's try this again. Write a post about a party you've thrown or attended, or even a great party idea. It could be a birthday party, holiday party, dinner party…whatever. Then come back and add your blog link to Mr. Linky. There are only a couple of rules:
1. – Please link your post back to my party.
2. – Even if your party wasn't G-rated, please keep your post G-rated (got it?)
3. – I reserve the right to change the rules, because "It's My Party and I'll Change the Rules If I Want To." (Do you hear the music playing?)
Here's the best part: I will scour each post for the party or party idea that most captures my imagination. That blogger will be featured on my blog and will win some cool (yet-to-be-determined) prize.
So will you come? Please RSVP by snagging my button and displaying it on your blog!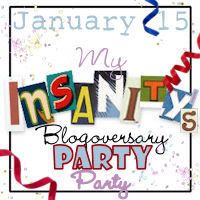 (Visited 4 times, 1 visits today)