I have been thinking about this for nearly a year, yet when it comes to sitting down to write this post, I have found myself struggling to know just how to say it…
I know I am not the only blogger out there that struggles to find the balance between the time and energy I put into to my blogging and other creative pursuits and the time and energy I devote to my family.  Being on the computer can distract us from the more important things in life, yet by being on the computer I have found many blogs that have helped me to become a better wife, mother, decorator, party planner, economist, chef, etc.  The support and positive impact we can have on one another, is one of the main reasons why I am still blogging and reading blogs and seeking for that balance.  Nearly all of the blogs I come across are written in a spirit of sharing good ideas and helping each other out.  I am so grateful for this corner of the blogging world that is courteous, clever, and a wonderful place to hang out!
So, realizing that there are a lot of wonderful blogs out there, this Mother's Day, I'd like to seek out those that are particularly inspiring and which give the calling of Motherhood the respect and esteem that it deserves.  On Friday, I am planning to award the Magnificent Motherhood award that I created, to a blog that has made me want to be a better mother and helped me to find more joy in Motherhood (I bet some of you will guess this blog before I post about it).  I will put up Mr. Linky and invite all of you to do the same.  Choose a special blog to recognize this Mother's Day, write a post about it, and link up to my post, so we can have a collection of Magnificent blogs about Motherhood at our fingertips, for those days when we need a little reminder that what we are doing is extremely important.  
This award is going to be a little different than the others that have been passed around blogland.  I would appreciate if it is only given to a blog that has been posted about and linked to my Magnificent Motherhood Party.  Please just choose one blog (maybe two if you feel strongly about them and write two separate posts).  That being said, I would love for all of you to participate and share which blog(s) has been the most meaningful to you.  I will have a button for recipients to display on their blogs if they so choose. :
Trying decide who to award?  Here are some criteria to help with your decision:
*Select a blog/blogger who has influenced you personally.  Can you complete this sentence?:  "This blog makes me want to be a better mother because____________."
*I am looking for blogs that show respect for the calling of motherhood, and bloggers who find joy in mothering, but not necessarily for those that appear to have perfect lives at all times. (Real women, not Stepford wives.)
*Can you pick a specific post or two from that blog to link to on your blog that exemplifies the inspiration that can be found on this blog?
If you'd like to help spread the word about the Magnificent Motherhood Mother's Day, please post this button on your site.  (Post on facebook, and tweet about it, too, please!) and meet back her on Friday.  By Mother's Day, hopefully we will have a great list of blogs to read, and sometime to put our feet up and enjoy them!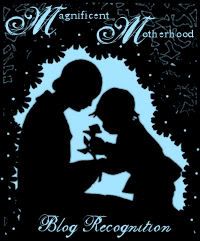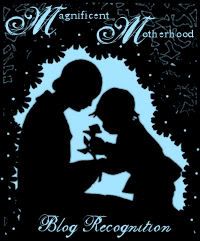 (Visited 11 times, 1 visits today)