I'm crashing the end of Thrifty Decor Chick's Goodwill Party, in the hopes that I can count on all of you brilliant bloggers and readers for some good advice about my Goodwill find.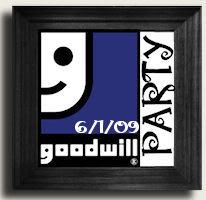 I found the lovely lamp at Goodwill a while back for a mere $5.  I really like the shape and style.  I could paint it, but probably won't since it's already a little naturally distressed and that is what everyone is going for, right?  What I did not find was a shade to go with it and have been searching since.  I haven't had a lot of luck finding any thing cheap, which is always the first priority with me.  Just a little while ago I grabbed this shade for something like $8 at IKEA (yes, the plastic wrap is still on).  I'm trying to decide if it works with the lamp, will work with a little tweaking, or if I should go in another direction.
This picture is to give it a little context.  Did I mention that while getting ready for the
birthday and baptism
(and a bunch of other stuff) my parents and I wallpapered the wall beneath my stairs?  This gives you a pretty good view of how it came out.  I've planned to do a whole post about what I've learned about wallpaper in this century, but we'll see if I get around to it.  Anyway, the paper stays.  The table will either be painted or stained a very dark brown (it's a little too distressed!), and I have lots of plans for wallhangings, like an artful family tree, and silhouettes, a la
Nie
.  I am decorating with a lot of reds through out my house and some lighter greens.  I'm going for more of a transitional feel.  I like classic lines, but prefer a more modern,  simplified take on them.  That is what I was hoping to accomplish with the IKEA shade.  Bring in a little green and a little more modern feel to this old-fashioned setting, but I'm afraid it might be too modern.  What do you think?  Do you….
a) Think the size, design, color, etc. of the shade is great and will work well when I finish decorating the space.
b) Like the shade, but it needs to be embellished a little.  Maybe some fringe or pom poms around the bottoms, or a ribbon around the middle to dress it up a little (what would you do?).
c)  Think the shape and size are good, but don't like the pattern there at all.  I should cover it with a more complimentary fabric or paper.
d)  Use the shade elsewhere or take it back to IKEA.  With a little more persistence I can find a better suited lamp shade for cheap.  (What color, shape, size would you be looking for)
e)  None of the above (Tell me if you have a different idea).
If gotten such great advice from blogland in the past, I'm thinking of making it a regular feature.  Thanks for all of your comments!
(Visited 1,540 times, 1 visits today)