With apologies to ABC, I welcome you to our insane Extreme Makeover Furniture edition. Please join in the fun by linking your makeover post below. Any post of a home decor/furnishing nature with a before and after picture is welcome. I am especially hoping to get some posts with your tips, lessons learned, favorite products, etc. I am teaching a "trash to treasure" class for the women in my church, in just a couple of weeks, and I am looking for your great tips to share with them. I will be featuring some of my favorites from this party in my class, and on my blog.
So without further ado….are you ready for my big reveal?


I inherited this solid wood accent table from my Grandpa several years ago. I know the rustic look is in, but I think this goes a step too far!


Is that the same table? (*Audience gasps, and cries*—hey, it's my reality show! It could happen.)
This album chronicles the steps we took to make this transformation possible. In the spirit of full disclosure, it isn't 100% finished. I still need to apply some polyurethane, or other protective top coat, but hey…I'm throwing a pirate party this weekend!
I departed a bit from my norm on this project, for a few reasons. I don't know if I have always been enamored of the two-toned look, in furniture, but am strongly considering it now, for my dining room table and thought it would be a good idea to experiment on a smaller project first and see how I liked it, and how challenging it is.
Here is some of what I learned:
1-Real sanding (the kind you need to do if you are going to apply stain instead of throw on a coat of paint), is a bit of work, and elbow grease, even with a power sander.
2-Didn't attempt it, but it seems that sanding the parts with lots of curves and turns would be very painstaking, so makes a good case for the two-toned project. Sanding the flat planks was much simpler than it would have been to sand the whole piece.
3-I'm cheap and don't have time for lots of trips to the home improvement store, so I opted for white spray paint that we had on hand. I probably would have been happier with the finish, had I bought an antique white paint, instead.
4-Spray painting the legs made sense to me because of all of the detail on the legs. Brush painting, would have been more difficult and time consuming on this project—of course, it did require masking off the sanded wood.
5-Don't mess with BSB and his serious masking technique. He says he does it the quickest and easiest way. What he means is he does it the quickest and easiest way to achieve perfection.
6-I intended to distress the legs slightly by rubbing off some of the wet paint in the crevices. I live in Hades (I mean, Phoenix) and so the paint was totally dry before I got a chance to use my method.
7-It is nice that distressed furniture is in style, because it would be hard to take a piece like this and make it look pristine again.
8-I really wanted to find a product to rub on to the legs that would stay in the crevices, but mostly wipe off the rest of the leg, maybe leaving it a bit warmer and less white, but not completely changing the color. I'm sure something like this exists, but not in my home this evening so…
9-I found the best method for distressing was the good old sandpaper, that I thought would be a pain to use. I tried stains, and all kinds of things with out much success.
10-Paste Wax. What do you know about this. Interior designer, Susan, recommended using tinted Butcher's Past Wax to give a rich distressed look on the dining room table. I'd never heard of it before. I found a different brand of paste wax, with out much tint, among the products we inherited when our friends moved to California, so I tried it out on this project. Where it wasn't very tinted, I'm not sure it did much. I'd love to learn who else has used these products on furniture, and the results they've achieved.
11-This two-toned thing is really growing on me. It was exciting to reveal the beauty of the natural grain of the wood I found myself not wanting to go too dark, even. But I think the white (or other color) breaks up the heaviness of wood, and I have a bit of wood furniture in my house already. Not sure how well this will blend in, but it is nice for a change of pace. Painting it one solid color would have been much easier. But I think grandpa would approve more, of this take on the piece.
Hopefully, I can get a couple more big projects done before the class. Total cost for this one— $0. (Unless you count the sander we bought for this and other upcoming projects). The stain and paints were hanging around from past projects.
So if your finger isn't too sore from scrolling down so far, join the party! Show us your Extreme Makeover! We'll gasp and cry for you, too!

Note: Using a different version of Mr. Linky…you have to click on the graphic above to add and view links. Not sure I like it, but if it keeps him from crashing, I'll take it.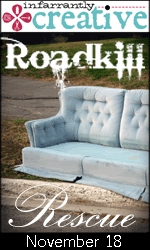 Joining in RoadKill Rescue @ Infarrantly Creative, and Kimba's DIY Thursdays, and Thrifty Decor Chick's Before & After party.
(Visited 12 times, 1 visits today)