Come on in!  Do you hear the crackling of wood in the fireplace?  No…it's just the eggs frying on the sidewalk.  It's clearly July, but it's beginning to look a lot like Christmas here on the blog!  And we're having a Christmas in July PARTY!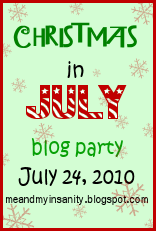 This party is going to be better than I envisioned, because we have two amazing blogging celebrity guests!
But now I have another Christmas surprise!  I'm not sure I told you yet (there will be a big post with all of the details next week), but last Saturday I got to meet the illustrious
Kim, from the TomKat Studios
at an amazing photoshoot!  Not only is she super-talented, but she is super nice!
and this:
And here is the great news:
We are looking for your homemade Christmas gifts and projects!  What have you given in years past?  What are you making this year?  Are you starting now, or will you be up all night on Christmas Eve creating that special gift?
This is what I am supposed to be working on:
Actually, these ones are done!  Somewhere in the stupor of my third trimester, I agreed to do a felt food exchange with my sisters for Christmas gifts for our children.  We each make one set of food 5 times.  One of my sisters made these adorable french fries and burger.  I should have taken close-ups of the individual parts of the burger, but she sewed the veins on the lettuce and shapes on the pickles and tomato.
Another sister made the felt deserts.  I love the ice cream cone!  Each scoop of ice cream has velcro on the bottom, so they can stack on each other.  The cookies she made, each have a different number of chocolate chips, so they can be used to teach counting, as well as for play.
I was given the assignment of breakfast.  It shouldn't be too difficult.  I'm planning on it looking something like this:
Except now, I'm hearing that IKEA is going to start carrying their own line of felt food.  And now I have a decision to make:  to make my bacon and eggs, or buy some from IKEA for everyone.  I actually think this will be a fun project to do with my oldest daughter, so we will probably make them, but we'd better get it on the calendar right away.  School starts in about a week, and Christmas will be here in the blink of an eye.
Now it's your turn!
What are you working on?  Link up any of your posts with great Christmas Gift/Project ideas.  Please add this button to your post so others can party with us, too!
 Also, make sure you have easy to find contact information on your blog, so I can contact you if you are one of the winners!  If not, leave a comment with your contact info.  Visit as many links as you can and share some Holiday cheer!  Don't we all need it?  Even in July!
(Visited 474 times, 1 visits today)