I've been a little reluctant (and preoccupied) to jump into Valentine's Day too quickly, but have you flipped your calendar, yet? It's February! Time to get serious about all things Love-related!
I made this fun gift for BSB last-minute, last year, but didn't have a chance to get it blog ready then. I recreated it to share with you today, to help you with your last-minute Valentine's gift giving.
You've probably made candy grams at one point in your life–you know, the cards that are covered with candy bars that spell out a message. We never get tired of those, probably because everyone likes candy and everyone likes clever sayings. I created a basket of goodies in the same vein as a candy gram, but since it is in a basket, you can add bigger things than candy bars, and have a little more variety in what you give. The thing that makes this such a great last minute gift is that everything included is available at your grocery or dollar store (Ok. I had to go to Walgreens to find the Big Hunks), and you know that food will be appreciated and consumed. I figured BSB could take it to work with him and enjoy his snacks there, while remembering how much he is loved!
Here are the goodies I included in this basket:
Crush soda (a bottle would be fun, too!)
Big Hunk candy bar (look for these where they sell nostalgic candy)
Snickers bar
SweeTarts
Hot Tamales (for the poem, you can use any food that is spicy!)
His favorite bowl/can of soup
100 Grand candy bars
Jar of pickles
Nuts (any variety–these are chocolate covered, but a can of roasted peanuts or bag of raw almonds works too)
Fortune cookies (these were at my Dollar Tree).
Of course, you could use what ever snacks your man likes, but if you want to do this the easy way, you'll want to use my poem (and printable!), so you'll need the contents to look pretty much like these.
The blue basket was also from the dollar store, dressed up with some sparkly red ribbon (after Christmas clearance). After Valentine's Day, he can use it to help organize his junk! 🙂
I wrote my "Candy Gram" in rhyme, with some fun fonts to reflect the snacks and put a number by each item, so he could find it in the basket.
Here's what the rhyme says:
I've got a Crush on you–you BIG HUNK–you know I do.
Don't SNICKER, SweeTart, you know that it's true.
I'm known to go BANANAS for my Spicy Soup-er Man.
Just being in your presence make me feel like 100 GRAND!
I'd be in a real Pickle if you ever went away.
I'd go a little more NUTS with every passing day.
I know that I'm so FORTUNATE to be your Valentine!
I love you very much and I'm so grateful that your mine!
What do you think? Is Hallmark going to come calling?
I used my under-utilized scrapbooking stickers to tag each item with a number, so it is easy to see how it corresponds with the poem. You could do the same thing with small round labels.
And here is the fun basket all put together and ready for gift giving! If you want your items to be very visible, you might consider putting some filler in the bottom to prop things up a bit.
I'm sharing my poem as a printable, to make it fast and easy for you!
Click on the image to open it up full-sized. Save it to your computer and print it out on card stock–it's designed to use half a sheet of paper. If you have any trouble with the sizing, just tell the printer to fit to page.
This printable is free for your personal use! Please don't re-distribute.
Would your "Big Hunk" like to get a basket like this? Have you made your Valentine's plans yet?
UPDATE: I now have a Teacher's Valentine Gift Basket with printable. Same concept as this one, but for that special teacher instead!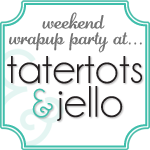 (Visited 4,487 times, 2 visits today)